Interesting first half to the season, you think? Look around. The Atlanta Hawks are up and the Cleveland Cavaliers are down. 

Jabari Parker is already finished and Andrew Wiggins is just getting started. The Golden State Warriors are fun to watch and the New York Knicks are just frustrating.

The Western Conference is a snakepit -- but you knew that -- and the East a can of worms. And you knew that, too.

Meanwhile, the league is trying to copy the defending champion San Antonio Spurs, and not in a Hawks-sort-of-way, either.

Teams everywhere are resting players left and right, even players who aren't injured or prehistoric like Kobe Bryant. And not just against the Philadelphia 76ers, either. A silent protest is being sent to Commissioner Adam Silver and the owners.

Some first-half events were predictable, some not. And then there's the Detroit Pistons, who fit both categories.

They started the year looking crummy and disoriented at 5-23; in other words, exactly how they were constructed.

Then new coach Stan Van Gundy put on his general manager hat, tossed Josh Smithoverboard and now, the Pistons are suddenly breathing playoff fire.

Yes, they play in the East, which makes it easy to recover so quickly from a poor start. But still, the Oklahoma City Thunder would like to have what they're eating.

Before listing the first-half awards, what drama can we anticipate in the next three months? Well, speaking of OKC, can the Thunder work their way into the top eight?

That would mean the Phoenix Suns couldn't fend them off, or more shocking, the L.A. Clippers or Spurs got squeezed out. Yes, the playoff chase in the West will end with at least one unlucky team moaning about not playing in the East.

The Cavaliers are all but assured a playoff spot in the East, but unless the first 41 games were a mirage, they'll go quickly and embarrassingly in April.

So far, they're a mess, nothing like they were built to be. It'll also be interesting to see if the Nets get sold, Paul George makes a comeback, Jeff Green is just what the doctor ordered for Memphis and if Kobe can make it through the season without a complete meltdown (so far, so good, but keep those fingers crossed).

Here we go:

Midseason MVP: Stephen Curry

It's all coming up swishes for Curry.

He's off to a strong start and his team leads the West.

Those are the right credentials to place yourself in the MVP conversation.

He ranks seventh in scoring (23.2 ppg), fifth in assists (8.0 apg) and leads the league in steals (2.1 spg), showing growth at both ends of the floor.

Of course, offense is what he does. He's shooting 49.9 percent from the floor, 39.9 percent on 3-pointers and 91.8 percent from the line.

The last three guys who shot 50-40-90 (Dirk Nowitzki, Steve Nash, Kevin Durant) won MVP. Curry is also a very sneaky rebounder (4.8 rpg) and his passing borders on wizardly.

All due respect to James Harden and Durant, there may not be a more complete offensive player in the game.

As for Harden, he's the league scoring leader and plays on a team less-talented than Curry's. But his defensive lapses, while often overstated by the public, are more common than Curry's.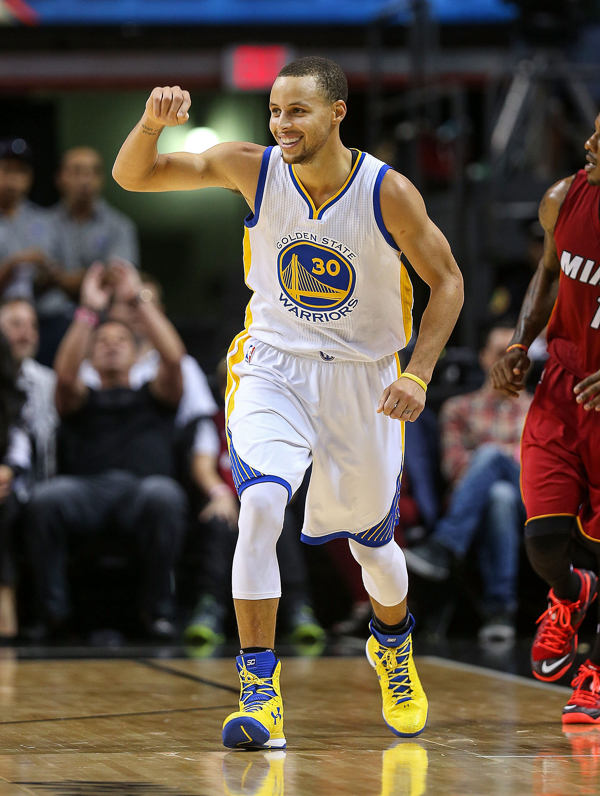 Coach of the Midseason: Mike Budenholzer

There was a general feeling Budenholzer would eventually slide over a seat in San Antonio whenever coach Gregg Popovich retired.

Well, the Hawks are thrilled that (a) Pop kept working, which allowed them to (b) get Bud.

He brought along the Spurs' playbook and two seasons later, the East-leading Hawks are the most unselfish team in the NBA, despite the lack of a big star (or maybe because of it). They hustle on defense, too.

Rookie of the Midseason: Andrew Wiggins

What a hard-luck category as there are too many injuries and too many players with a lot to learn. 

Julius Randle and Parker suffered season-ending injuries and only about eight of the 30 first-round picks are in the playing rotation. It's not a pretty picture.

Anyway, Wiggins is making the most of it in Minnesota, especially lately. He's averaging 15.1 ppg -- no other active rookie is in double figures -- and shooting 39.5 percent from deep.

Sixth Man of the Midseason: Lou Williams

The Hawks aren't perfect. They gave up on Williams last summer in what amounted to a salary dump.

The Raptors are thankful for that. Williams is fully recovered from knee surgery two years ago and producing as good as ever (15.0 ppg in 24.2 minutes per game), as evidenced by a career-high 36 points against the Cavs. Marresse Speights has also put up quality minutes for the Warriors.

I'm still not sure why the Grizzlies gave up Speights and a No. 1 for Jon Leuertwo years ago. Insane.

Executive of the Midseason: Donnie Nelson
This goes to Nelson of the Mavericks. Or maybe owner Mark Cuban? Hard to tell whether the re-tooling was due to Nelson's maneuvering or Cuban's millions.

Probably both. The Mavs added Tyson Chandler, Chandler Parsons and Rajon Rondo, three quality starters, and all it cost was a few picks and money.

They've given themselves a chance to salvage Nowitzki's twilight years, which is what the Lakers should've done with Kobe Bryant.

Defensive Player of the Midseason: Anthony Davis

Honestly, Anthony Davis might be a stronger MVP candidate, or certainly most improved.

As it is, he's a tremendous last line of defense and doubles as an A-grade rebounder.

We are looking at someone who could soon have a five-year run as the best player in the game. Dwight Howard one again is putting in quality defensive work and in the running for this award.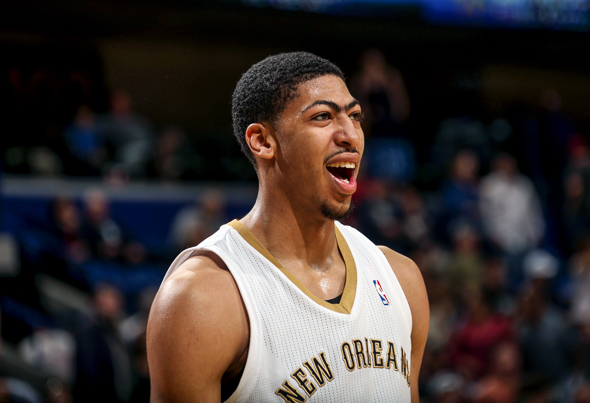 Most improved Player of the Midseason: Jimmy Butler

Did you see this coming from Butler? Didn't think so.

Not the Bulls, not their fans, not coach Tom Thibodeau (he admitted as much) and not even Butler envisioned his role expanding the way it has in Chicago, where he's often the No. 1 option on a team with Derrick Rose and Pau Gasol.

His scoring average jumped 7 points from last year and his shooting and rebounding are up as well.

Best addition: Jason Kidd

Maybe the Bucks would've drifted upward anyway in the weak East, but coach Jason Kidd's arrival has been refreshed this young and developing team. It's one of those right-man, right-time scenarios.

It almost erases the scent of his awkward exit from the Nets. Also, give some credit for the resurgence of Pau Gasol, the booby prize in the Carmelo Anthony sweepstakes last summer for the Bulls.

Worst addition: Lance Stephenson

Two months after signing him as a free agent, the Hornets were slapping the for-sale sign on Lance Stephenson.

They expected more than 10.1 ppg, 38.2 percent shooting, 15.8 percent from deep and a player who is often benched in the fourth quarter.

Stephenson has been so shaky that the Indiana Pacers, when asked by the Hornets, didn't want him and his team-friendly contract back.


Most Disappointing Team of the Midseason: New York Knicks

Sure, folks will insist the Cavaliers have this one covered. They're playing break-even basketball and it's January, quite a comedown for a team built to win it all.

But what about the Knicks? They're 5-36 at the break, the worst record in basketball, and putting NBA D-League talent on the floor (at New York ticket prices).

At least the Cavs can turn their season around. There's no hope for the Knicks and no reason for Carmelo Anthony to risk his health by playing big minutes in a lost season.

Most Disappointing Player of the Midseason: Kevin Love

The debate now begins about Love.

Is he merely a victim of being with a new team and in a new system that doesn't fit him? Or were the massive numbers he put up in for a losing Minnesota team inflated?

Whatever the reason for his drop in production and his sudden disappearance from the group of elite players, it doesn't reflect well for Love or the Cavs. 

Deron Williams also deserves mention here. Just a few years ago he was the face of the franchise in Brooklyn. Today, he's coming off the bench.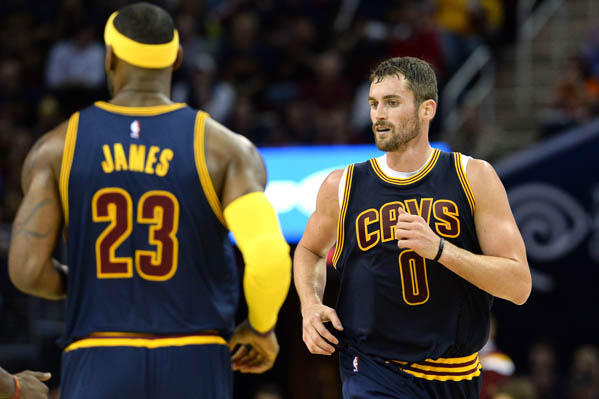 Surprise Team of the Midseason: Atlanta Hawks

The Hawks are starting to pull away in the East, after losing only twice since Thanksgiving.

Yes, Al Horford is healthy after missing most of last season, but Atlanta is on pace to win 60-plus games (after winning 38 last year) without adding a significant player in the offseason. 

Jeff Teague is beating up elite point guards, Kyle Korver is threatening 3-point shooting records and Paul Millsaprarely has an off night. As they say down South, this team is fo' real.

Surprise Player of the Midseason: Brandon Knight
Other than Butler? Well, the Pistons gave up on Brandon Knight a few years ago, and the Bucks refused to extend his contract last summer.

That was two of the three times he was dissed; the other coming when DeAndre Jordan nearly crushed him on a dunk in 2013. Well, Knight is getting the last laugh now.

He's playing the best ball of his short career, running the team well and scoring 18.3 ppg. Figure that the presence of Kidd has something to do with Knight's rapid development as a point guard.